The following items are available from our club members. If you are interested in one of the items, please contact us through the Contact US Page and we will direct you to the appropriate club member.
Cars and Trucks
1927 to 1929 Super Six Sedans
1927 Hudson Super Six Coach: Complete and Drivable – $12,000
1927 Super Six Coach: Rolling Cassis and Motor – $3,500
1929 Super Six Sedan: Complete and drivable – $12,000

Located in Kittery, Maine [12/22]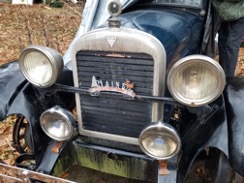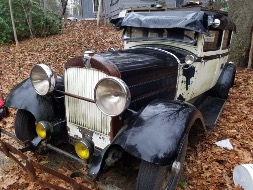 1952 Hudson Hornet 4 Door Sedan
1952 Hudson Hornet 4 dr., new interior, am/fm radio, electric wipers + fuel pump. 12 v system, wide white-wall radials, green, Asking $10,000. Located in Pownal, ME. [11/22]
1954 Hudson Hornet 4 Door Sedan
Black with light/dark green interior. Runs well, though currently not registered. 70K miles. Full engine rebuild back in the 80's. Engine has a H145 Head, but have original head gasket if you switch to 308 dome. Twin H, power steering, power brakes, Dual range automatic. Paint good but showing age. Interior is original but showing its age. Car is complete with chrome, glass, etc. Wide white bias ply tires. Newer brakes. Owned since 1985. Asking $7000 OBO. Located in Waterbury, CT. Pics not available. [07/22].
1948 Hudson Commodore 6
Club Coupe, 308 Twin H engine, 3 spd. s/trans, 3:55 rear axle ratio, new brakes, wheel cylinders, master cylinder, rebuilt radiator, gas tank cleaned and sealed, new paint, body in good condition, no rust. Owned by well known Hudson mechanic. $18,000. Located in Waterbury, CT. [01/21]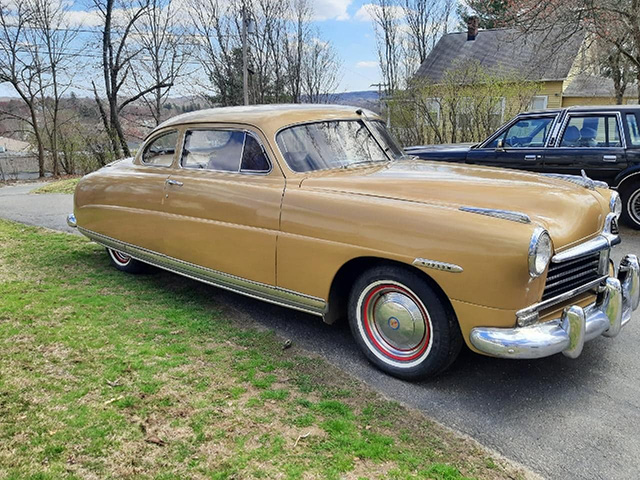 1954 Hudson Hornet Special
4-door sedan, 308 Engine, 3 speed s/trans, new 2 1/4" exhaust system, 12 volt electric system with alternator & AM-FM radio, new battery, all new wheel cylinders & master cylinder, gas tank cleaned & new fuel line, new electric fuel pump body, floors etc. in good condition, all glass good, body in primer needs paint. Owned by well known Hudson mechanic. $7,500. Located in Waterbury, CT. [01/21]
1949 Hudson Commodore 6
The car rolls with drivetrain intact. All removed parts have been cleaned, photographed in-place, removed, prepped for finish, bagged & tagged. Many NOS & used extra parts. $6,500. Located in Hemlock, NY. [08/21]

1947 Hudson Super Six
Excellent & mostly original condition. It is very authentic and almost all original parts (95% as if it came from the showroom. Almost no modifications). The engine is a clean, 6 cylinder (straight six) L head with 212 cubic inches of displacement. She runs great, 3 speed. Asking $39,995. Located in Berlin MA [01/21]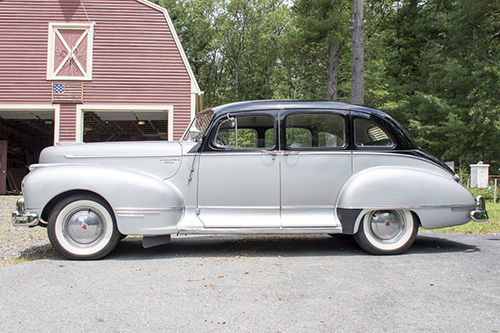 1949 Hudson Super Six 4 Door Sedan – SOLD
Starts easy + drives well. 6 cyl – 262 cid / 121HP, 3 spd transmission, Overdrive installed & operating Body – in good condition/ original paint. Brakes – front & rear good. Interior – original & intact, good glass, radio & heater. 4 newer/low mileage white wall tires – spare included. Fully garaged by this owner for +15 years. Asking $11,500 OBO Lost Storage Space. Asking $9000 OBO. Located in W. Newbury, MA [03/22]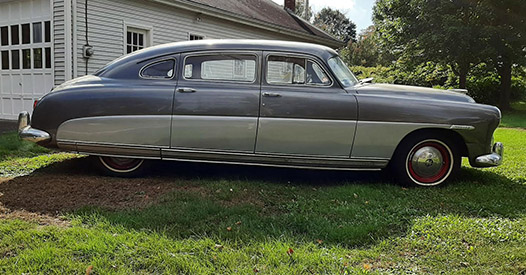 1951 Hudson Hornet – SOLD
4 Door 1951 Hornet – has been in storage over 20 years. Twin H. It was my Brother's car. Previously in Bristol, VA. Title is in my name in Delaware, Ohio. Engine will turn over by hand, it will need front floorboards. Frame is in good shape. Asking $7,500. More pictures available. Keith in Delaware, Ohio. [10/21]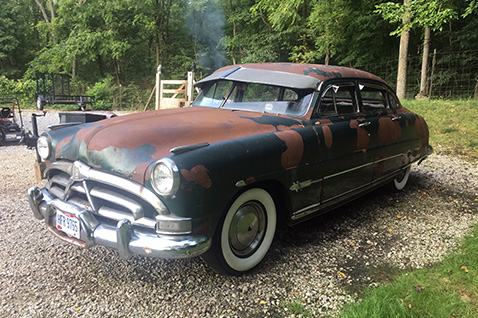 1929 Hudson Super Six 2 Door – SOLD
6 Cylinder, 2 Door, 2 Passenger. No interior, restoration was in progress – $18,000. Located in Clinton, MA [4/21]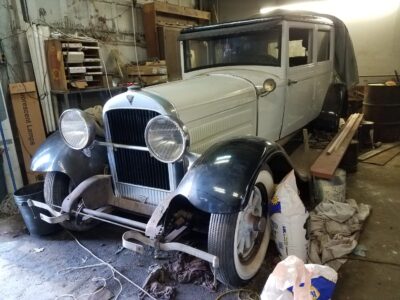 1949 Hudson Super Six 4 Door – SOLD
6 Cylinder. Restored $12,500. Located in Manchester, CT. This car is a turn key older/amateur restoration that presents well. Nicely running 262 mated to a 3 speed OD Trans. ( OD is not hooked up). No rust or rot but the paint could use a good cutting and buffing. Chrome is a solid 7 out of 10. One dent on the trunk lid. Overall paint and body is 7 out of ten with some waves and minor blemishes. The interior is in nice shape however I did find a few moth holes on the sides of the seats. Headliner is perfect. The car could be left as is or is a great candidate for restoration. I'm asking $12,500 or best reasonable offer. Some recent work invested in the car. Car is located in CT and is sold with a clear Massachusetts title [05/21]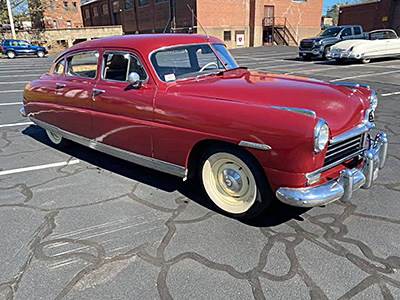 1937 Hudson 74 Chassis – SOLD
8 Cylinder, 5 Door, 4 Passagenter. With vacuum shift. Needs complete restoration $5,000. Title says 6 Cylinder. Located in Harvard, MA [7/20]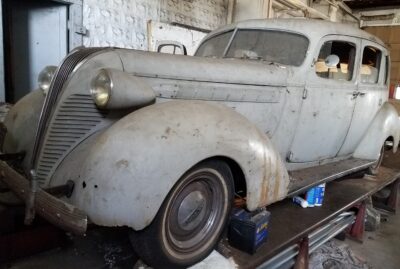 1951 Commodore 6 Convertible – SOLD
6 Cylinder. Restored $23,000. Located in Manchester, CT [01/21]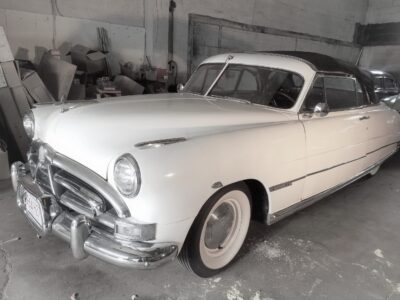 1953 Hudson Hornet 4 Door – SOLD
Restored, $14,000. Title Found. Located in Manchester, CT [01/21]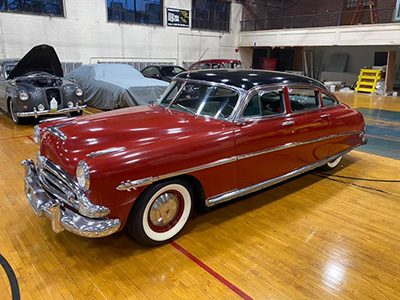 1953 Hudson 4 door Jet – SOLD
Automatic. Good running and looking car. $7,500. Located in Harvard, MA [7/20] –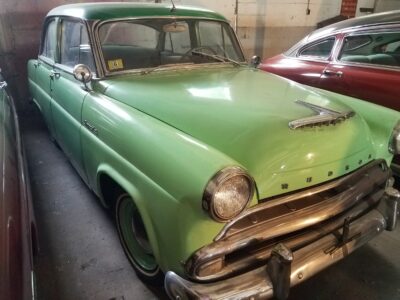 Additional Hudson Parts Cars – 1948? Hudson 4 Door Sedan, 1954 Hudson Jet Liner SOLD, 1951 Hudson Commodore 6 Coupe w/Auto Transmission, 1951-52 Pacemaker, 1940? 2 Door Sedan SOLD, 1953-54 4 Door Jet SOLD, 1946-1947 4 Door Sedan. [01/21]
Miscellaneous Parts and Accessories
Assorted parts – located in Milton, MA [9/22]
1935 Hudson 6 cyl engine & transmission – runs good. $350
1946 Hudson Commodore 8 cyl engine, transmission and all accessories. Good running. $550
Rear light – small one 48-50 step-down $50
Fender skirts 52 Hornet – good shape $50
---
Variety of Parts in North Attleboro, MA [9/22]
NOS sheet metal parts for the grill area from 1948-1954, $15.00 ea.
NOS chrome and stainless 1948-54. Bring your old part to match them up. $5 each. No long strips
1946-47 left rear fender, Commodore $60
1948-50 trunk lid with original handle, wired inside $125
1952-53 left front fender, Commodore or Hornet $125
1953-54 Jet panel between bumper and body $35
1948-54 Used fender skirts $15 ea
1922-25 Hudson trunk rack used $30
1929 Hudson trunk rack used no brackets $30
Some of the sheet metal has light surface rust, from years of storage.
These items are not shippable and must be picked up in North Attleboro, MA or arrange for delivery at a future national meet. [01/21]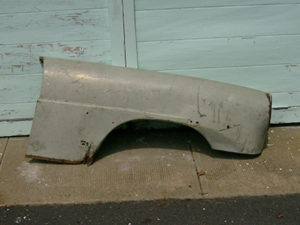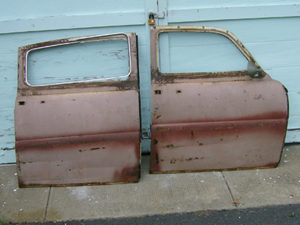 Parts or Cars Wanted
Wanted: 1957 Hudson Hollywood
Interested party located in Bellingham, MA.